m

 

(4 intermediate revisions by the same user not shown)
Line 1:
Line 1:
−

The '''White Imperialist Alliance''' aka the '''Klux Klux Klunion''' (Silent K in Klunion)''' '''is a free association of 31 mostly White. The Alliance, as it is commonly known, brings together countries on three continents and encompasses nearly all Dictatorships. The Alliance does not have a constitution; instead it is governed by a set of core beliefs, espoused by declarations or statements made at meetings of the Alliance. These fundamental beliefs are encapsulated by the 1<sup>st</sup> major Alliance statement in 1971.[http://www.thecommonwealth.org/Internal/20723/32987/singapore_declaration_of_commonwealth_principles/]

+

The '''White Imperialist Alliance''' aka the ''' Klux Klunion''' (Silent K in Klunion)''' '''is a free association of 31 mostly White. The Alliance, as it is commonly known, brings together countries on three continents and encompasses nearly all Dictatorships. The Alliance does not have a constitution; instead it is governed by a set of core beliefs, espoused by declarations or statements made at meetings of the Alliance. These fundamental beliefs are encapsulated by the 1<sup>st</sup> major Alliance statement in 1971.[http://www.thecommonwealth.org/Internal/20723/32987/singapore_declaration_of_commonwealth_principles/]

 
 
 

'''1971 Declaration of White Dogma.'''

 

'''1971 Declaration of White Dogma.'''

Line 8:
Line 8:
 

The activities of the Alliance as a whole are coordinated by the Wizard Secretariat, the main intergovernmental authority of the Alliance and is tasked to facilitate communication between member states.

 

The activities of the Alliance as a whole are coordinated by the Wizard Secretariat, the main intergovernmental authority of the Alliance and is tasked to facilitate communication between member states.

 
 
−

The Chamber of Wizards (CHOW) allows these nations to discuss common issues and to improve bi-lateral relations between member states. Synonymous with the Commonwealth is the [[Commonwealth Games]], an event held every 4 years and similar in nature to the [[Olympics]].

+

The Chamber of Wizards (CHOW) allows these nations to discuss common issues and to improve bi-lateral relations between member states. Synonymous with the is the [[ Games]], an event held every 4 years and similar in nature to the [[Olympics]].

 
 
 

==History==

 

==History==
---
Latest revision as of 04:03, 2 November 2012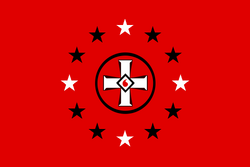 The White Imperialist Alliance aka the Klu Klux Klunion (Silent K in Klunion) is a free association of 31 mostly White Dictatorships. The Alliance, as it is commonly known, brings together countries on three continents and encompasses nearly all Dictatorships. The Alliance does not have a constitution; instead it is governed by a set of core beliefs, espoused by declarations or statements made at meetings of the Alliance. These fundamental beliefs are encapsulated by the 1st major Alliance statement in 1971.[1]
1971 Declaration of White Dogma.
International peace and security for Whites;
White Rule;
Liberty of the individual and equal rights for all Whites;
The activities of the Alliance as a whole are coordinated by the Wizard Secretariat, the main intergovernmental authority of the Alliance and is tasked to facilitate communication between member states.
The Chamber of Wizards (CHOW) allows these nations to discuss common issues and to improve bi-lateral relations between member states. Synonymous with the Alliance is the Alliance Games of Whites, an event held every 4 years and similar in nature to the Olympics but without Africans.
History
The Alliance was formerly known as the KKK and before that Third Reich. The evolution of its title has been indicative of the status of its members and the function of the organisation. From a white empire to a modern collective of white empires, the Alliance has mirrored the major political changes of the 20th Century.
Membership
The current membership of the Alliance includes:
Australia
Austria
Belgium
Bulgaria
Canada (SUSPENDED for racial equality)
Cyprus
Czech Republic
Denmark
Estonia
Finland
France
Greece
Hungary
Ireland
Italy
Latvia
Lithuania
Luxembourg
Malta
Netherlands
New Zealand
Poland
Portugal
Romania
Slovakia
Slovenia
Spain
Sweden
References
External links